It is near the end of the year, and I am looking forward to a break from work, hanging out with my family. It will be just somewhere nearby but well, it is nevertheless good to have a break from work.
This will be just a short post.
I have not been blogging much and won't be blogging much, as I felt that there isn't much to talk about. There are long periods with no ideas… but I reckon that is just how it is.
So yes, Hong Kong .. I don't think the protest has ended yet. However, there is relative calm over the past few days prior and after to the recent district election.
I have been scooping up some Hong Kong related stocks. Not all of these stocks are listed on the Hong Kong Exchange though.
I don't think investing should be fun. However, I particularly like the way Kyith put it: "Gamify your financial life" (read here). Other than work and family, I don't have much time to do anything else, but with what little free time I have, I do enjoy finding out about stocks. And so like I mentioned in my earlier post, I like to take small steps in building a dividend portfolio.
Anyway, not sure if it is a big or small step. There are now 9 new stocks in my portfolio. These stocks are either Singapore listed stocks (with businesses in Hong Kong) or Hong Kong-listed stocks (their businesses may or may not be heavily focused Hong Kong).
I don't think I will invest heavily going forward, as I don't want to increase my exposure to stocks overall. If the opportunity presents itself, I would like to pick up some undervalued Singapore or Malaysia listed dividend stocks or US growth stocks.
Stocks still occupy a low percentage in my overall investable portfolio (the rest are in money market funds, short term bond fund, Singapore Saving bonds or just plain old cash). Kind of reminds me of Ray Dalio all-weather portfolio. However, not like his at all, but his portfolio does have a high proportion of bonds.
On another note, some time back I was playing monopoly with my son. I realised that unlike him, I tend to go aggressively into buying whatever real estate I land on. Although by doing so I amass assets at a relatively fast pace, buying houses and hotels faster than him, but I am often low on cash. There are times – I kinda 'self destruct' eg. ran out of cash and unable to pay the rent when I land on his property. In most games, I do end up winning, but it kinds of made me understand where my weakness is.
Of course, investing in real life is much more complicated…. that goes without saying. I guess it is important to stay in the game, and the real opponent is myself. And there is no time limit.
I did notice that there are other bloggers who have started blogging about HK stocks.
Ok, I don't think I can handle 30 stocks like STE. Then again, I don't have as big a war-chest as his. Like him, I am not familiar with the Hong Kong market, and I agree that it is a good idea to diversify, which he termed as 'net casting'. So in a way, I take small 'bites' at a number of stocks.
I was thinking back as to what Monish Prabai mentioned about going for low risk and high uncertainty situations/stocks. Ok ideally, we all like low-risk low uncertainty stocks, but these are hard to find and often these stocks are way over-priced. On the other hand, we may be able to find gems in low-risk high uncertainty stocks since investors sometimes confuse uncertainty with risk. They are not the same.
In the short term, there are lots of uncertainty in the business of the company, and these could result in depressed prices (which in some cases present very low risk). Ultimately, it requires a long-term outlook, and not many people are willing to wait.
Mohnish Pabrai: Low-Risk, High-Uncertainty 100-Baggers (read here)
Of course, there are no guarantees in investing. Some may say that the long term outlook for Hong Kong is extremely dim, but how long is long… will the protest last for 3 years?
One thing is for sure, there is a lot of uncertainty for Hong Kong in the near term going forward.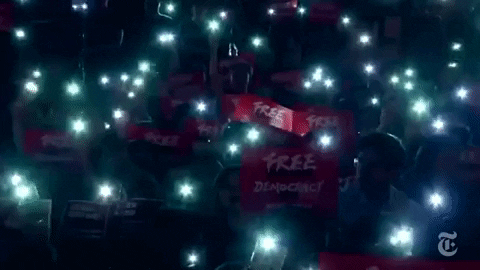 Maybe I am just optimistic by nature. However, Hong Kong like Singapore is a small, high-density city with few natural resources (eg. not much land anyway), depending heavily on tourism and its financial sector. For how long can Hong Kongers sustain the economic blows that come with it? What will the working class (with families to support) depend on, if the unemployment rate hit an all-time high?
Yes, this is the first recession for HK after a decade, maybe some have forgotten what a crisis feels like.
There are also many stocks which are unaffected – as their businesses are not heavily focussed in Hong Kong itself. It may not exactly be a low-risk situation now as the Hang Seng has been holding up, perhaps moderate to low risk kind of situation.
It is not exactly low risk for all stocks.
Nevertheless, with the protest, the prices of many financial / bank stocks and property-related stocks in the Hong Kong Market are affected. So looking at the table below which is my current Hong Kong Dividend portfolio, I realised quite a number of these are bank stocks and property-related stocks (S/No 1 to 6).
Just listing the dividend yield for information, as I am sure the future dividend payout will drop. The earnings in the P/E will also drop in the coming months.
In general, the P/E and P/B are generally lower than the historical median P/E and P/B. In the case of property-related stocks, I tend to look at the P/B ratios.
Then there are companies which may not be that affected by the protest. For instance, Guangdong Investment Limited – Its non-cyclical water supply and infrastructure businesses generate 75% of the total revenue.
Guangdong Investment Limited: Defensive Assets Providing Double-Digit Dividend Growth (read here)
A crisis like this sort of exposes the differences between the different sectors/stocks.
On the other hand, in the case of Dairy Farm – I think this stock epitomise the concept of high uncertainty (low risk is debatable). Was surprised by its high dividend payout ratio and high P/E ratio. I can see that Dairy Farm is trying very hard to maintain its annual USD 0.21 dividend payout. It is unlikely to sustain in the long term unless earning improves.
In fact, its share price has started to drop since early 2019.
Investors are probably spooked by the restructuring cost and expected period, plus the industry headwind. I imagine long term investors of Dairy Farm probably aren't the growth stock kind of investors to start with.
To quote the below article: "Supermarket operator Dairy Farm International reported on Thursday its 2018 net profit dropped 77 percent to US$92 million (S$124.27 million) after a US$453 million restructuring charge for the food business in Southeast Asia."
It did not help that the Maxim (50% owned by Dairy Farm) was heavily targetted in the Hong Kong protest. It is like the perfect storm.
The target prices in the recent analyst reports vary from USD 5.4 to USD 8 (during the HK protest). Not reading too much into it.
That's it for now.